Employees
Strategic Human Resources Work
ProSiebenSat.1 Group is taking the opportunities presented by digitalization and developing from a traditional TV provider into a broadcasting, digital entertainment and commerce powerhouse. The Group supports this process with numerous human resources measures that are derived from the strategy and that strengthen the Company's innovative power. As a media company, ProSiebenSat.1 Group is a classic "people business": Every day, our employees help ensure that the Group remains one of Europe's largest media companies with their talent, creativity, and dedication. In order to secure the future economic growth of ProSiebenSat.1 Group, we pursue a sustainable and responsible human resources strategy. We invest in a targeted way in the development, education, and training of our employees and offer them attractive career opportunities, performance-based remuneration models, family-friendly working conditions, a comprehensive package for work-life balance, and a wide range of social benefits.
Development of Employee Numbers
Calculated on the basis of full-time equivalents, the Group had 5,584 employees as of December 31, 2015 (previous year: 4,210). The average number of full-time equivalents in the last year was 4,880 (previous year: 4,118). The increase of 762 average full-time equivalents or 18.5 % is primarily due to the expansion of the digital business. The acquisitions of etraveli, Verivox, Flaconi and Collective Digital Studio made a particular contribution here. In the past financial year, this resulted in a personnel increase of 699 full-time equivalents in the Digital & Adjacent segment.

In 2015, ProSiebenSat.1 had an average of 4,164 employees in Germany, Austria, and Switzerland (previous year: 3,440 average full-time equivalents). This equates to growth of 21.1 % year-on-year and an 85.3 % share of the Group's total employees (previous year: 83.5 %). The regional distribution of employees in 2015 was as follows:

Due to the increase in employees, the personnel expenses recognized in the cost of sales, selling expenses and administrative expenses also rose. They increased to EUR 477.3 million in financial year 2015, which constitutes an increase of 21.9 % or EUR 85.6 million compared to the previous year.
Information on targets for the composition of the Executive Board and Supervisory Board can be found in the Corporate Governance Report.
Diversity Management
ProSiebenSat.1 values its employees with the personal characteristics, talents and abilities that they bring to the Company. We are convinced that diverse teams are better able to solve complex tasks. A balance of men and women within the company and in management positions also contributes to diversity. In 2015, 46.8 % of ProSiebenSat.1 employees were female (previous year: 45.5 %) and 53.2 % were male (previous year: 54.5 %).

In the core market of Germany, the proportion of women was 45.4 % (previous year: 44.8 %) and thus on the level of the average proportion of women in German enterprises, which according to the Federal Office of Statistics was most recently 46.4 % (2014).

The ratio of women in management positions was 29.0 % (previous year: 29.9 %), while 27.9 % of managers in the core market of Germany were female (previous year: 29.0 %). This figure also matches the average in German enterprises (Federal Office of Statistics 2014: 29 %). To further promote balance, the Executive Board of ProSiebenSat.1 Media SE sets targets for the proportion of women on both management levels below the Executive Board in September 2015. The target is 15 % for the first management level, 25 % for the second management level. The targets are expected to be achieved by June 30, 2017.
For ProSiebenSat.1, diversity means that employees are hired purely on the basis of their skills. Factors such as gender, nationality, sexual orientation, and age play no role. In 2015, ProSiebenSat.1 employed people from around 50 different nations in Germany. The age pyramid also reflects diverse demographics, whereby the average age was 36.7 (previous year: 37.2).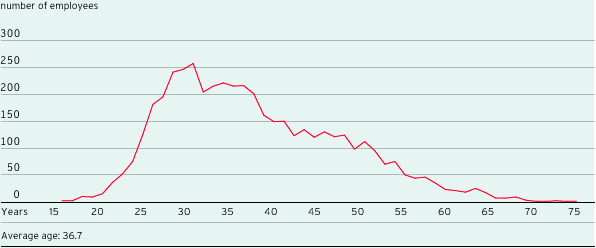 Our corporate culture is characterized by openness and respect. Therefore, ProSiebenSat.1 Group signed the Diversity Charter in 2014. By joining this initiative, we underlined our commitment to creating a working environment free of prejudice and exclusion that promotes diversity among employees. In this context, the third Diversity Day was held in Germany on June 9, 2015; ProSiebenSat.1 supported the nationwide campaign day both in the company and in its programming. For example, the magazine show "taff" launched "Bleib fair," a large-scale social experiment about cyberbullying, and campaigned for openness to and acceptance of all cultures, creeds and sexual orientations.
Recruiting, Education and Training
In order to succeed in a highly dynamic industry environment in the long term, it is particularly important to ProSiebenSat.1 Group that its employees continue to develop and that the Group gains new, highly qualified talents as part of its growth strategy. In recruiting, the Group therefore takes various approaches: The digital recruiting methods include the Group's own career portal as a central platform, which was newly launched in 2014. In December 2014, the HR department introduced the job recommendation portal Talentry to the Group, which incentivizes employees to become active recruiters: Existing employees have the opportunity to recommend suitable candidates for vacant positions and receive a commission. The Group thus improved its position on the applicant market, especially with regard to technical job profiles. With over 900 registered users and around 2,000 recommendations since launch, Talentry has established itself as a successful recruiting tool.
In addition, ProSiebenSat.1 uses the Viasto video platform as another recruiting system. The tool enables prerecorded video interviews with candidates. Pre-selection can thus be made more efficient and flexible when there are large numbers of applicants. Additionally, ProSiebenSat.1 uses different social media channels and operates an own talent community. In recent years, ProSiebenSat.1 has also established a recruiting team that proactively approaches talents on the market and maintains an external network. In total, the number of applications to ProSiebenSat.1 in Germany rose to 37,700 in 2015, a growth of 10.8 % compared to the previous year (34,000).
At the same time, ProSiebenSat.1 continuously grooms qualified junior staff for the Group through various apprenticeships. In 2015, 190 apprentices worked in Germany at ProSiebenSat.1 (previous year: 185). This includes management trainees, trainees in TV, Online and PR, as well as apprentices in the following courses — audiovisual media, events, video and sound media design, and IT system integration. The Group also offers dual study programs in media and communications business, as well as accounting and controlling. ProSiebenSat.1 Group is taking a large part of its apprentices, management trainees, and trainees into full employment as the following chart shows:

Furthermore, the training of employees is of great importance at ProSiebenSat.1. In 2015, the Company further increased its budget in this area: In the past year, ProSiebenSat.1 Group's investments in education and training programs rose to EUR 3.6 million (previous year: EUR 3.0 million). Part of the investment goes to the ProSiebenSat.1 Academy as the central provider of training formats for employees and managers. The number of Academy events increased to 750 (previous year: 561); the number of participants rose by 16.4 %. In total, 6,945 participants made use of training offers (previous year: 5,965).
In order to allow our employees to develop on a continuous basis, we have been offering them an extensive program at the ProSiebenSat.1 Academy since 2010. The various seminars on professional and personal development are derived from the corporate strategy and aligned to the qualification requirements of ProSiebenSat.1 employees. In 2015, internal training again especially focused on digital issues: The Company offered training courses such as "Digital Economy," "E-Commerce & Online Marketing" and "Lean Start-Up for User Experience." The objective is that employees understand digital megatrends and the latest technologies and that they estimate the importance for the own industry in order to develop new products and business models. In addition, the Group strengthens its employees' innovative power with various instruments such as Learning Expedition.
Succession Planning and Executive Development
In addition to the continuous training and education of our employees, our success is also based on long-term succession planning. ProSiebenSat.1 Group uses the "Organization & Talent Review" (OTR) to identify talented and high-potential employees in the Company and to support them with individual development plans.
At the same time, ProSiebenSat.1 also uses the OTR to ensure long-term appointments to business-critical functions. The process was introduced in 2010. In 2015, 158 employees took part in the OTR (previous year: 201 participants).
All managers at ProSiebenSat.1 Group go through a development program with the modules "New Leader," "Performance," "Team," "Self-Management," and "Digital Leader." In 2014, the Group introduced "Digital Leader" as a new module to train management skills resulting from the digital transformation. Overall, 451 managers took part in the development offerings in 2015 (previous year: 219).
Performance-Based Compensation System
With performance-based compensation, ProSiebenSat.1 gives its employees an appropriate share in the Company's success. Our employees are managed on the principle of "Management by Objectives," drawing on a system that puts higher-level corporate objectives into more specific terms for both staff and management by systematically breaking down targets into segment, departmental, and individual goals. At annual assessment interviews, employees and their supervisors define personal targets for the financial year. These not only provide clear goals but also encourage motivation. The system of targets is tied to a bonus plan calculated on the basis of individual target attainment and the EBITDA generated by the Company. Employees can achieve up to 200 % of their individual target bonus.
For managers, the Company introduced the "Performance Development" program in 2010. The objective is to assess functional performance, manager conduct and business activity. The program is linked to a bonus system, and also entitles managers to receive a one-time payment of up to 200 % of the individual target bonus. A further incentive system was initiated in 2012 — a share-based compensation plan (Group Share Plan) in which selected managers participate.
Work-Life Package
We offer an environment where our employees can best unify their private and professional lives. Therefore, employees of ProSiebenSat.1 Group are provided with an extensive work-life package, which supports them in particular in the areas of family, sports, and health. For over ten years, we have offered our employees an in-house day-care center that currently has 74 places. In 2015, the Group's investments in childcare rose to EUR 1.2 million (previous year: EUR 1.0 million). EUR 0.3 million went to the company day-care center and a new children's playground, EUR 0.9 million to care subsidies, which are paid to all employees whose pre-school age children receive care outside the home.
In addition, we make it easier to unify the professional and private lives and make a work-life balance possible with flexitime models, teleworking jobs, and part-time work. The new working hours model (FlexTime), which offers employees a generous flexitime arrangement as well as various opportunities for compensatory time off, has been in place since the start of 2015. In addition, the model governs mobile work at home and while traveling. In 2015, the proportion of part-time employees at ProSiebenSat.1 in Germany rose 16.8 % (previous year: 16.1 %). According to the Federal Office of Statistics, an average of 26.6 % of employees of German enterprises worked part time in 2014. ProSiebenSat.1 employees can also make use of various short-term and long-term sabbaticals in order to integrate their career and personal life plans more individually. Moreover, the Group cooperates with an external service provider that facilitates childcare, concierge services, coaching in difficult life circumstances, and support in caring for family members.

The ProSiebenSat.1 human resources work also focuses on health and sports. The Group offers its employees the opportunity to integrate movement and sporting activities into everyday working life. They can for example make use of an own sports room and an extensive course program on the Company campus. Since July 2015, employees of ProSiebenSat.1 Group at the Unterföhring site have also had the opportunity to hire bicycles and pedelecs under the salary conversion concept. The Group actively promotes the health and wellbeing of its employees and simultaneously contributes to climate protection and traffic optimization.
Employee Satisfaction and Employer Attractiveness
An important factor of a successful HR work is for us the satisfaction of the employees. The Company carried out its most recent employee survey in Germany, Austria and Switzerland in July 2014 in order to obtain a detailed assessment of the atmosphere and to identify potential areas of improvement. With a share of 70 %, the participation rate was again very high (2012: 70 %). The results show that there is a high level of satisfaction among ProSiebenSat.1 employees. Close to 60 % are proud to be working at ProSiebenSat.1. These high satisfaction values are also reflected in HR figures such as the staff turnover rate, which fell to 8.8 % in financial year 2015 (previous year: 9.7 %). Despite the decline in turnover, the average period of employment decreased to 5.5 years (previous year: 7.5). Last year, ProSiebenSat.1 saw a sharp rise in employee numbers due to various acquisitions; as a result the average period of employment fell in absolute terms.
Moreover, external evaluations also emphasize the appeal of our Group as an employer. ProSiebenSat.1 Group is one of Germany's most popular employers and has maintained its position at the top of the rankings for several years. In 2015, WirtschaftsWoche's employer ranking confirmed that ProSiebenSat.1 is not only in high demand among media professionals but also experts in other subjects — such as business administration and informatics. ProSiebenSat.1 also counts among Germany's top 100 employers in the "trendence Graduate Barometer", taking 24th place in the business edition and 30th in the IT edition. As in previous years, ProSiebenSat.1 was also among the top ten most popular employers in the "trendence Schülerbarometer 2015." Humanities students who took part in the "Universum Student Survey 2015" voted the Company into second place; ProSiebenSat.1 is one of the top 15 employers in Germany for young economists according to a Universum survey.