Katja Hofem knows her way around founding new TV channels. She is the broadcasting group's top executive in charge of creating and expanding free TV services. Over the past five years, ProSiebenSat.1 has seen the successful launch of three new channels: sixx, SAT.1 Gold, and ProSieben MAXX. Number four is on its way in 2016.
Broadcasting German-speaking: Small Channels, Big Successes
ProSiebenSat.1 grew faster than expected in every segment in 2015. Financial targets for 2018 have been raised significantly. How will the new channels contribute to achieving that goal?
Katja Hofem: sixx, SAT.1 Gold, and ProSieben MAXX are doing better than we projected. That's why we've also raised our new channels' planned medium-term contribution to growth. In 2015, SAT.1 Gold increased its market share to 1.3 % and thus nearly doubled it. All three channels helped us gain new clients in the TV advertising market.
ProSiebenSat.1 has launched three new channels in the past five years, and now serves almost every demographic group. Is there still room for more free TV channels?
Katja Hofem: The launch of sixx in 2010 was the kick-off in a new wave of pioneering and groundbreaking achievements that many thought were beyond the reach of private TV. Of course, we have to be careful that in ten years we don't wind up running something like a fishermen's channel for sensitive bearded men between the ages of 18 and 24. But so far we've been very successful at addressing new target groups and their lifestyles. For sixx, this is the woman who remains young; for ProSieben MAXX it's the urban man; and for SAT.1 Gold, the woman with a touch of nostalgia. We helped initiate the fragmentation and we'll be filling more niches like these.
Does that mean that the more mature men are being overlooked?
Katja Hofem: We certainly see potential among viewers who are currently watching the public channels. They're mainly men between 40 and 65 and they like documentaries. We took a big step forward in 2015 with our preparations for the first documentary-only channel on free TV. It's due to go on the air in the second half of 2016.
Aren't older men pretty set in their viewing habits and brand preferences?
Katja Hofem: We've already seen that there's potential among more mature women. The 40-plus generation has changed completely. Twenty years ago, the older men had grown up in the days when public TV was all you could see. Today's more mature generation grew up with private TV and new media. They're active, inquisitive, and very involved in life. Our target audience is interested in history, politics, nature, and technology. At the moment, free TV has no consistent programming line to meet their individual needs and points of view.
»WE'RE LAUNCHING A NEW DOCUMENTARY CHANNEL IN 2016.«
What will the new channel be named?
Katja Hofem: We're looking at various name options right now. In any case the new channel will offer a clear identity and be the first all-documentary channel on German free TV, showing successful international high-quality documentaries. We certainly see potential among viewers who are interested in documentaries as a genre.
What kind of investment is required?
Katja Hofem: Most of all, you have to invest passion and time, carefully thinking out what the channel should feel and look like for viewers. I need to have a target audience and a brand image in my head before I can start to assemble content. Several American companies have already come to grief in Germany with attempts to build a brand around content that already existed. We're working in the reverse direction: We know our target audience's interests and preferences, and we're attuning the content to that.
How big of an audience share does a channel need to make a profit?
Katja Hofem: The one percent line is important. It's also a kind of psychological barrier that a channel should get past if it wants advertisers to view it as a relevant player in the market.
In 2015, sixx, SAT.1 Gold, and ProSieben MAXX earned a combined audience share of nearly four percent among viewers aged 14 to 49. Is there any room left to grow there?
Katja Hofem: Each of our new channels still has growth potential among its target audience. With sixx, for example, we've seen that in-house productions like "Horror Tattoos" can attract audience shares of up to 4.1 %. It's always about touching a nerve with your core audience and still attracting new viewers. For SAT.1 Gold, we made a right decision to expand the purely German nostalgia focus into a more international direction with big, heart-warming programs like "Little House on the Prairie" and "Bonanza." ProSieben MAXX has been optimally drawing its core audience with the National Football League. At the same time, the channel broadens. We assume that the new channels can deliver a combined audience share of six percent.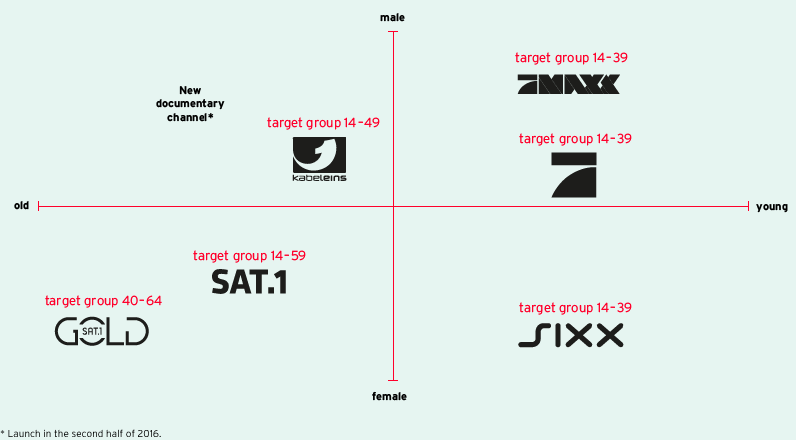 How can you capitalize audience share in the advertising market?
Katja Hofem: Our niche-audience channels, in particular, have been opening the door for TV to a lot of new advertising clients. We have some print clients who can't book one of the big TV channels for budget reasons, but would still like to get their ads on TV. On sixx, SAT.1 Gold, and ProSieben MAXX we can offer them customized communication solutions with tailored target audiences. That's how the new channels make an important contribution to expanding our advertising market. All told, we attracted 139 new clients that way last year.
A STRONG PRESENCE
44,4

%
Gross advertising market share
In 2015, SAT.1. ProSieben, kabel eins, sixx, SAT.1 Gold, and ProSieben MAXX reached the strongest audience market share for the group in the last ten years with 29.5 %. Our smaller channels made an important contribution to that. With an increase of 0.7 percentage points, SAT.1 Gold has experienced the highest growth. sixx, SAT.1 Gold, and ProSieben MAXX achieved a combined market share of 3.9 %. In the TV advertising market, ProSiebenSat.1 Group expanded its market leader position and reached a gross advertising market share of 44.4 %.
Which marketing advantages do your channels offer over other competitors?
Katja Hofem: Our marketing is backed by the power of our entire group of stations — the chance to run on a wide range of platforms and advertise via cross-promotion. Plus there's the flexibility to try new things, as with our branded entertainment format "Amorelie Love Lounge" on sixx, which achieved a market share of up to five percent among young women aged 14 to 39. We offer advertising clients a professional network and a broader presence. So the roughly four percent market share that our smaller channels deliver are actually worth more than it is with other marketers.
»SIXX, SAT.1 GOLD, AND PROSIEBEN MAXX ARE DOING MUCH BETTER THAN PROJECTED.«
ProSiebenSat.1 plans to continue diversifying, especially in the digital business. How do the new free TV stations fit within that strategy?
Katja Hofem: Linear TV is the foundation of our business, because that's the only place where advertising clients can develop a big reach in a short time. We're launching another free TV channel because we believe in the future of commercial TV. We'll expand our group audience share even more and it will also strengthen our competitive position. There are days when we reach well over 30 % of the viewers aged 14 to 49 and our small channels get shares of about six percent. YYou only become that strong, if you have a large number of channels in your portfolio. At the same time, we're using our size to push our digital business. We're taking advantage of our TV channels' reach to popularize what we offer in the commerce and digital entertainment sectors as well.
What do you think is your biggest challenge?
Katja Hofem: We need to get our content pipelines prepared for the future quickly and effectively, and of course fill them with the right content.
Will that complete your family of stations?
Katja Hofem: There are limits to audience fragmentation, and the free TV market is already almost fully occupied. But as long as there are still niches, we'll fill them early on with attractive programming.<