E-commerce is the Digital & Adjacent segment's biggest growth driver and is a highly profitable business. That's why ProSiebenSat.1 is resolutely expanding the segment's portfolio, investing in strategic acquisitions, and launching the next stage of development — internationalization. Because this market still has a lot more to offer.
Digital & Adjacent: E-Commerce – A Growth Market
Champagne for breakfast! The residents of Swedish university city Uppsala usually start the morning of the holiday Walpurgis with liquid and with good cheer. Then off they go to the Fyris River. At the stroke of 10 a.m., the race is on between extravagantly imaginative homemade mini-boats paddled by teams of students from all over the country. After that, everyone parties. Each year, Valborg attracts some 100,000 students and thousands of tourists. The historic Viking city, which boasts grave mounds and a landmark cathedral, is the former coronation site of Swedish kings.
Not far from the wild scene at the river, which flows right through the center of town, you'll find the head office of etraveli, Scandinavia's biggest online air travel portal. Many people who come to Uppsala for Valborg booked their tickets on one of etraveli's Web platforms. Gotogate, Seat24, Supersavertravel, Travelstart, BudJet, and Flygresor are among its best-known brands.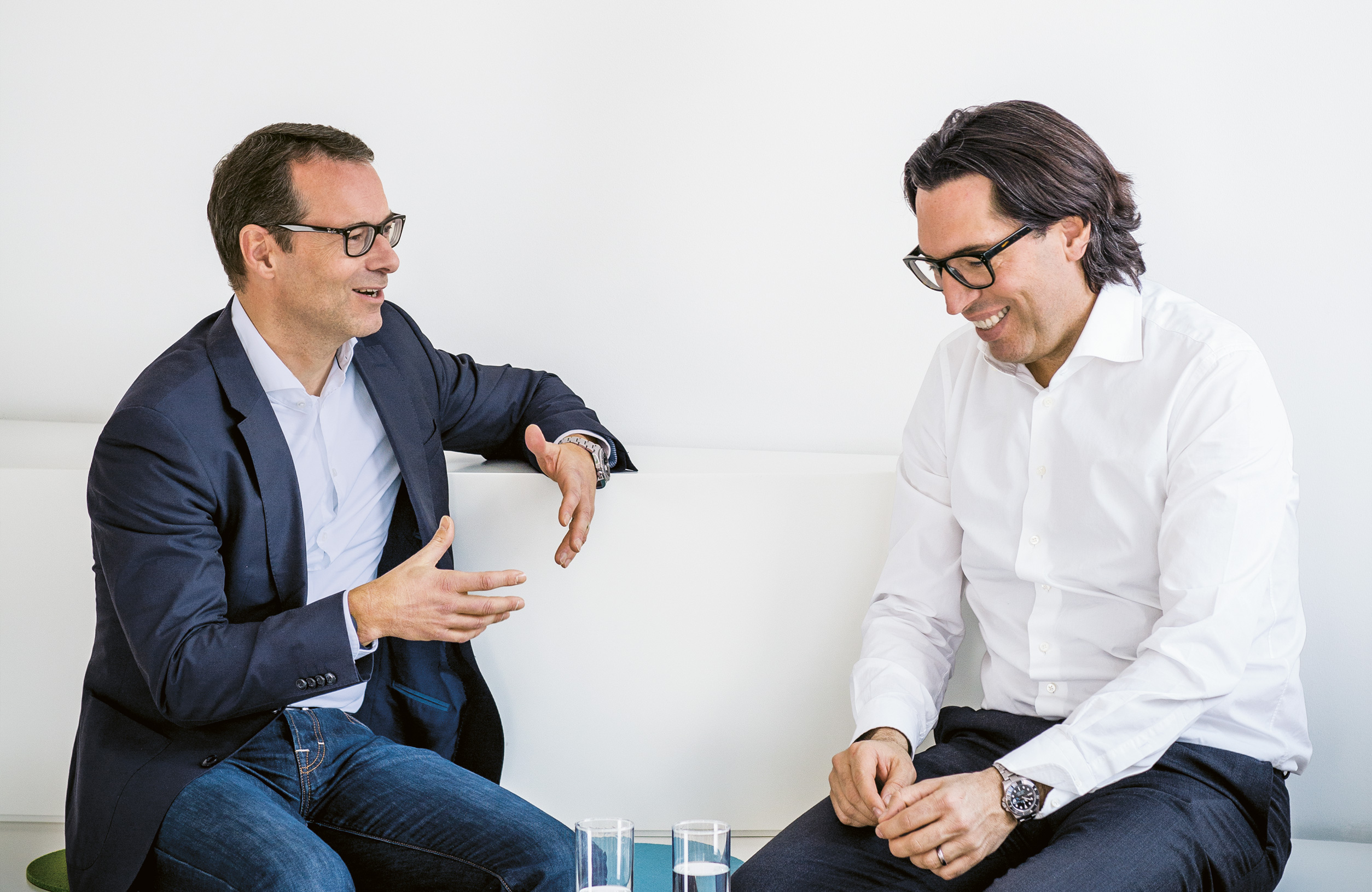 etraveli is the biggest and the first international acquisition in e-commerce to date
The success story may have begun in Northern Europe, but today the company operates 12 brands in 43 countries on four continents. Two million flight tickets a year are sold via etraveli's platforms. And something that etraveli's CEO Mathias Hedlund is convinced about is that there's still plenty of potential in its markets. He has defined the sphere of action with white pins on a full-wall map in the office lobby. In 2015, etraveli added more countries whose residents love to travel: Japan, Singapore, Australia, and a dozen others. Hedlund plans to expand worldwide over the next few years in collaboration with the company's new owner, ProSiebenSat.1.
This is ProSiebenSat.1 Group's biggest international acquisition to date, and its first big international acquisition in this sector. A strategic move that fills out its portfolio of travel activities under the umbrella of the subsidiary 7Travel. One-third of all travel bookings start with someone choosing a flight. Two-thirds of the time, everything else — hotels, rental car reservations, travel insurances — follows once the departure and return dates are set. ProSiebenSat.1 is already well positioned in Germany: with the hotel price shopping portal Discavo, the package tour agencies tropo and weg.de, the online travel agency reise.com, the country's largest rental car portal billiger-mietwagen.de, adventure travel specialist mydays, the platform for short trips and adventure travel Travador, and wetter.com. With the "flights" component under the new brand ueberflieger.de, clients can browse through the whole customer journey. Jörg Trouvain, Managing Director at ProSiebenSat.1's 7Travel, now plans to transfer this synergistic concept for success to other countries. His goal: "We want to be Europe's market leader in online travel." In 2015, billiger-mietwagen.de already launched a French subsidiary under the Carigami brand, tropo completed a launch in the Netherlands, and wetter.com established a presence in Spain as eltiempo.es.
ONLINE COMMERCE
+112

%
more revenues worldwide by 2019
E-commerce is a global growth market. Revenues will more than double by 2019, from roughly USD 1.7 trillion in 2015 to USD 3.6 trillion, according to US market research firm eMarketer. That comes to 12.8 % of the global trade volume — not including revenues from travel and event tickets. In Europe alone, one in every three consumers buys on the Internet — a total of 274 million people. The Ecommerce Foundation in the Netherlands estimates total 2015 revenues at EUR 477 billion. Europe's largest markets are the UK, Germany, and France, which account for 61 % of total revenues. Every e-shopper in Europe spends an average of EUR 1,544 a year. According to the Centre for Retail Research, the spending amounts to an average of EUR 1,200 a year in Germany.


EBITDA margin twice as high as the industry average
With etraveli, the Group is now taking the next step. In addition to its around 200 employees, the company brings along a market-leading analytical and operational expertise. "This expertise opens up international growth opportunities for us, with high returns at a low market entry cost," says Trouvain. etraveli earns an EBITDA margin twice as high as the industry average. Thanks to that strong position, the Swedish firm has helped shape the consolidation of the Scandinavian online flight travel market. "The market for online flight travel portals will concentrate into a few players in other European markets as well over the next few years," Trouvain is certain. ProSiebenSat.1 will help to advance that process with an active acquisition strategy.
Germany is one of the biggest e-commerce nations
Ventures & Commerce is the Digital & Adjacent segment's mainstay, and its double-digit growth rate makes it one of the biggest revenue drivers at ProSiebenSat.1. In financial year 2015, the Digital & Adjacent segment contributed EUR 846.4 million to consolidated revenues. That figure is expected to reach a total of EUR 1.5 billion in 2018. Electronic commerce will play an important role through both organic growth and acquisitions. The market outlook is promising. The Internet is where people want to buy. According to market research firm eMarketer, online commerce is projected to reach a volume of USD 3 trillion by 2018. At that point Germany will be Number 5 among the largest e-commerce countries, with an estimated USD 82.6 billion.
Christian Wegner, Executive Board Member for Digital & Adjacent at ProSiebenSat.1 Media SE, is systematically establishing new e-commerce verticals. "TV is a magic potion for digital commerce," he says. "We're investing in companies that can benefit from TV advertising's emotional appeal and ability to build trust." By swapping TV advertising time for a share of revenues or a stake in the company — in what are known as "media-for-revenue-share" and "media-for-equity" deals — the Group will begin by trying out new markets, companies, and management teams. If a company's brand development and management gain traction, the vertical will be rounded out with majority interests, takeovers, and more acquisitions. The choices will be guided by opportunities for synergy through cross-selling and for exchanging marketing and management expertise. A final option will be to internationalize activities.
In financial year 2015, besides filling out the travel portfolio, the Group invested primarily in three verticals that are already well-developed: Beauty & Accessories, Online Comparison Portals, and Fitness & Wellbeing. ProSiebenSat.1 acquired an 80 % stake in Verivox, Germany's largest independent consumer portal for energy. It also boosted its ownership interest in Preis24.de to around 85 %. The Group also holds a majority interest in Amorelie, an online lifestyle shop for love lives, and in Flaconi, an online store for perfume, make-up, and cosmetics. With Amorelie, ProSiebenSat.1 has begun transferring the brand to France, Europe's third-largest e-commerce market after the UK and Germany. Additional assets are under consideration in all facets of food, home and living, financial technology, and elder care. The Group expects to have up to ten verticals by 2018. Each is expected to have a profit margin of at least ten percent.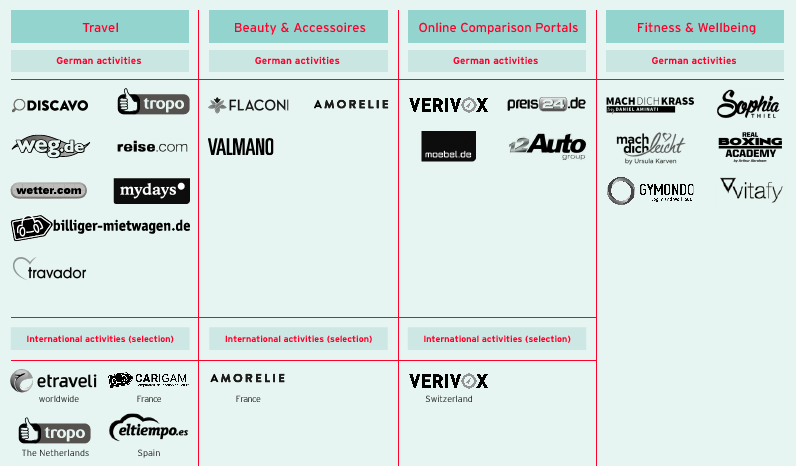 Virtual reality will revolutionize the purchase experience
Profits at 7Travel are already well above that figure today. They will benefit even more in the coming years from the emerging fascination with virtual reality. Where will your trip take you? Put on your glasses and off you go! Enjoy a 360° view of the romantic panorama from a cliff high above the sea — and then immediately book a flight and travel there. Or go on a shopping spree through New York City, try on the latest fashions in a boutique, and order them on the spot. "Virtual reality will bring the world home to your living room," says Wegner. Augmented reality, which merges virtual elements with the real environment, is the next step, he says. "These new technologies will revolutionize the shopping experience as well as television consumption," he predicts. "That will give rise to many new business ideas, and ProSiebenSat.1 will be able to profit from them thanks to its expertise in TV and digital commerce."<