Development of User Numbers
ProSiebenSat.1 Group has a comprehensive program repertoire of more than 60,000 hours of licensed US programming as well as exclusive local own and commissioned productions for its free TV stations. Attractive programs are the basis for success on the audience market. At the same time, we are extending our brands into the Internet and are pursuing the goal of using our stock of programming rights as efficiently as possible and increasing value via additional platforms and devices.

In financial year 2015, ProSiebenSat.1 web offerings reached around 32 million unique users per month (previous year: around 30 million unique users). The direct competitor IP Deutschland reached about 28 million unique users per month (previous year: around 27 million unique users). This finding is featured in a recent study by the Arbeitsgemeinschaft Online-Forschung (AGOF). Since August, the AGOF has been publishing "digital facts" in addition to these figures. For the first time, this cross-channel data indicates the total number of users aged 14 and up who have access to a service — regardless of whether this is done using an app, the mobile version or the desktop version of a website. With its online network, SevenOne Media is one of the sales companies in Germany and has the highest reaches in this measurement as well, with around 34 million unique users a month. With wetter.com, it operates the app with the highest number of users in Germany (4.6 million unique users). IP Deutschland reached around 28 million unique users.
Another essential component of ProSiebenSat.1's digital portfolio is the multi-channel network (MCN) Studio71, which was established in fall 2013. It is primarily funded by advertising and is increasing its video views on an ongoing basis. With more than 400 million video views per month and more than 38 million subscribers, Studio71 is the leading MCN in Germany. Last June, ProSiebenSat.1 Group also acquired the majority in Collective Digital Studio (CDS), a leading MCN in the US. This was combined as part of the transaction with Studio71. As a result, the MCN was also established internationally: With more than 1,400 channels and currently more than 3.5 billion video views per month, it ranks among the top 5 of the biggest MCNs worldwide.
In addition to advertising-financed online platforms, the Group also operates the VoD portal maxdome. The online video library generates revenues via pay-per-view and subscriptions and is available via traditional TV sets and PCs as well as mobile devices. In 2015, the number of subscription-video-on-demand (SVoD) users increased by 78 %, while video views were up by 81 %. With over 60,000 titles, maxdome offers the most comprehensive content range in Germany.
In March 2015, Facebook deleted inactive accounts and associated likes on all fan pages. Against this backdrop, numerous Facebook pages lost fans compared to the previous year.
ProSiebenSat.1 is also continuing to develop well in the area of social media. At the end of financial year 2015, it had more than 25 million fans on Facebook. Once again, the science program "Galileo" and ProSieben's TV station and show pages were the most popular; ProSieben shows "Circus HalliGalli" and "TV Total" saw the largest increase in the number of fans.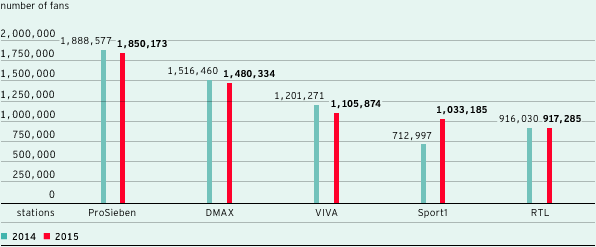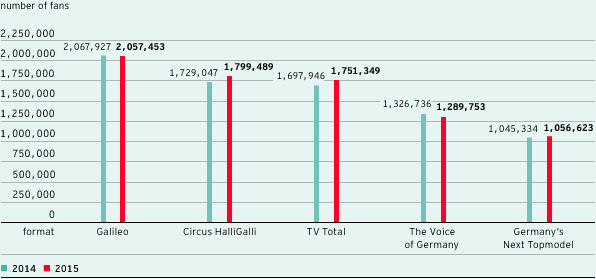 ProSieben's Twitter account had over 1.5 million followers at the end of 2015. This is an increase of around 50 %, allowing ProSieben to emphasize its leading position in social media communications. No other TV station has used Twitter so successfully. By way of comparison, RTL's Twitter account has around 460,000 followers. As the leading German media account, ProSieben exceeded the one million follower mark already in December 2014.
Social media activities are an important viewer and user relationship tool for ProSiebenSat.1. With the extension of TV content to the Internet and social networks, the aim is to expand its reach and offer advertising customers additional platforms. The successful format "Promi Big Brother" serves as an example here. In addition to the fixed time slot in TV, viewers and users are served with news, specially produced bonus material and interactive elements around the clock.