2015 was a record year for ProSiebenSat.1. Thus, the Company strengthened its leading position in the TV market, expanded the digital portfolio and successfully extended its production network in the US. This is an overview of the most important events.
The Year 2015 at a Glance
Company
April
Changes in the Executive Board.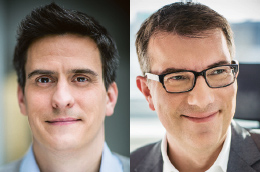 Dr. Gunnar Wiedenfels is the new Chief Financial Officer of ProSiebenSat.1 Media SE since April 1, 2015. He has been involved with the company since 2009, latterly as Deputy CFO, and was appointed to the Supervisory Board as the successor to Axel Salzmann, who left the Group as of March 31, 2015, of his own volition. Dr. Ralf Schremper is also member of the Executive Board as of April 1, 2015: He has worked for ProSiebenSat.1 since 2010 and is now responsible for the newly created Board department "Strategy & Investments."
MAY
Annual General Meeting resolves SE conversion.

At the Annual General Meeting on May 21, 2015, the shareholders of ProSiebenSat.1 Media AG resolved to convert the Group into a European Stock Corporation (Societas Europaea, SE) with 99.97 %. This conversion was entered into the commercial register on July 7, 2015. In addition, the Annual General Meeting resolved a dividend of EUR 1.60 per share. This equates to a payout ratio of 81.6 % in terms of underlying net income for 2014. Following the AGM, Dr. Werner Brandt was elected as Supervisory Board Chairman of the new ProSiebenSat.1 Media SE.
JULY
CEO Thomas Ebeling's contract prematurely extended.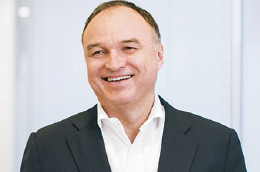 By resolution of July 1, 2015, the Supervisory Board of ProSiebenSat.1 Media SE prematurely extended Thomas Ebeling's contract by four years until the 2019 Annual General Meeting. Thomas Ebeling has been CEO of the Group since 2009, which, under his leadership already exceeded the financial targets many-times.
october
Growth targets for 2018 raised.
At Capital Markets Day 2015, ProSiebenSat.1 Group announced new financial targets for 2018. As the Group is growing faster than expected in all areas, the forecast of revenue growth compared to 2012 was raised from EUR 1 billion by EUR 850 million to EUR 1.85 billion. The revenue target for 2018 therefore amounts to EUR 4.2 billion. The dynamic revenue development is supported by all segments: In addition to the highly profitable TV business, organic growth and acquisitions in the digital and program production areas are also contributing to the positive development.
novemBER
ProSiebenSat.1 share hits new high.
The positive annual outlook and the Group's good performance are driving the share price performance. Its market capitalization has increased nearly forty-fold since 2009 to EUR 10.214 billion. On November 19, the share reached a new all-time high with a price of EUR 50.70. At the end of the financial year, the ProSiebenSat.1 share posted a gain of 34.3 % compared to the previous year.
Broadcasting German-speaking
OCtober
Contracts with major Hollywood studios.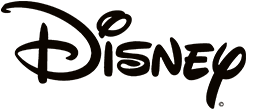 In October, ProSiebenSat.1 and Disney signed a long-term master license agreement. The agreement gives ProSiebenSat.1 access to new Hollywood blockbusters and TV series from the Disney, Disney·Pixar, Lucasfilm, Marvel, and ABC Studios production companies. In addition, ProSiebenSat.1 extended its contract with Twentieth Century Fox and concluded master license agreements with NBC Universal and Warner Bros. in 2015. ProSiebenSat.1 Group has agreements with nearly all major Hollywood studios, producers, and film companies. The Group's program supply is therefore secured for the long term.
DECEMBER
Record audience market share.
The German free TV stations closed the year 2015 with a market share of 29.5 % (pervious year: 28.7 %) and thus reached the highest market share for ten years. In Switzerland, the Company also upholds its successful multi-station strategy. Since October 2015, the new free TV station Puls 8 complements the portfolio; its relevant target group are viewers aged between 20 and 49. The station already achieves a market share of about one percent per month.
DECEMBER
Raab ends TV career.
After more than 16 years together, Stefan Raab announced his departure from television in June. The entertainer shaped ProSieben and German television with TV events such as "TV total Bundestagswahl," "Unser Star für…", and "Schlag den Raab." On December 16, 2015, "TV total" departed from the screen. 1.58 million viewers watched the last episode of the cult show on ProSieben.
Digital & Adjacent
APRIL
ProSiebenSat.1 expands Beauty & Accessories Vertical.
ProSiebenSat.1 Group has expanded its investment portfolio (vertical) in the Beauty & Accessories business in the past financial year: To this end, the Group increased its share in Sonoma Internet GmbH by 51.8 % to 75.0 % in April. It operates Amorelie, an online lifestyle shop for love lives in the German-speaking market. ProSiebenSat.1 also acquired the remaining shares (53.0 %) in flaconi.de, Germany's second-largest online store for perfume, make-up, and cosmetics and now holds 100 % of shares. In addition to Amorelie and Flaconi, the vertical also includes the online jewelry store Valmano.
JUNE
ProSiebenSat.1 buys comparison portal Verivox.
In June, ProSiebenSat.1 acquired a majority interest of 80.0 % in Germany's leading independent consumer energy portal. The aim is to establish a new portfolio for consumer portals. To this end, the Group had already acquired Preis24.de, the leading platform for mobile communications tariffs and smartphones. Verivox has been fully consolidated since August 2015.
JUNE
ProSiebenSat.1 launches global multi-channel network (MCN).

ProSiebenSat.1 Group has acquired the majority in Collective Digital Studio (CDS), a leading MCN in the United States, and combined it with Studio71 in the course of the transaction. Studio71 was already established by ProSiebenSat.1 in fall 2013 and has since become the largest network in the German-speaking region. Due to the merger, the MCN has established itself internationally, too: With 3.5 billion video views per month, it is already one of the five largest MCNs worldwide.
JULY
ProSiebenSat.1 broadens its expertise in the programmatic advertising market.
ProSiebenSat.1 has acquired a 51.38 % interest in Virtual Minds AG. The company is one of the leading European specialists in the dynamically growing programmatic advertising market. The technology from Virtual Minds enables the automated sale of digital advertising. Furthermore, ProSiebenSat.1 had acquired a majority interest in SMARTSTREAM.TV GmbH, a company that provides services relating to the optimization of online advertising space. ProSiebenSat.1 is constantly broadening its expertise in the automated sale of advertising in digital media and in individualized targeting. Thus, the Group offers its customers attractive online advertising platforms and creates new growth opportunities.
SEPTEMBER
Axel Springer and ProSiebenSat.1 promote start-ups.
Axel Springer SE and ProSiebenSat.1 Media SE have launched a joint project to promote high-growth digital companies. The initiative aims to support innovative business ideas and start-ups in order to improve Germany's position as a digital location, also on an international level. To this end, the two groups have already implemented three joint initiatives: Besides their investment in the Lakestar II investment fund, Axel Springer and ProSiebenSat.1 each acquired a minority interest in Jaunt, a US company specializing in augmented reality. The two media companies also invested in the online platform MyTicket.
OCTOBER
Internationalization of the travel portfolio.

With its purchase of etraveli, ProSiebenSat.1 implemented the largest acquisition to date in the digital business. In October, the Company has acquired the leading pan-European online travel agency for flights. It complements the Travel Vertical with the Flight segment. By investing in etraveli, ProSiebenSat.1 has made its existing travel portfolio more international and set the course for further growth beyond Europe's borders.
Content Production & Global Sales
FEBRUARY
Red Arrow sharpens focus on fiction.
Red Arrow made a successful start in 2015 with the first season of the crime series "Bosch" on Amazon. Following the positive user feedback, Amazon Studios already ordered a second season from Red Arrow later in the year. "Bosch" is produced by Red Arrow subsidiary Fabrik Entertainment and is marketed by Red Arrow International. Red Arrow also acquired the global distrbution rights of the series "Cleverman" outside of Australia and sold the format to the US: The Australian-New Zealand drama will go on air on Sundance TV in 2016. English-language fiction programs are particularly relevant for the production and distribution company because of the high international demand.
JULY
Red Arrow establishes Ripple Entertainment in the US.
Red Arrow Entertainment Group has strengthened its global digital presence by launching Ripple Entertainment, a digital media company in Los Angeles. The objective of Ripple Entertainment is to operate digital networks and to develop and produce content with Red Arrow Entertainment Group production companies, third-party providers, and independent creators. At the same time, Ripple Entertainment will exploit Red Arrow's existing programming digitally, thus maximizing the value of the portfolio.
NOVEMBER
Red Arrow Entertainment acquires majority stake in Karga Seven Pictures.
The company is a leading US producer and developer of factual entertainment formats and produces both scripted and non-scripted programs. By making the acquisition, Red Arrow is continuing its rapid expansion in the world's most important TV market. Karga Seven is headquartered in Los Angeles and the company is also represented by a location in Istanbul.